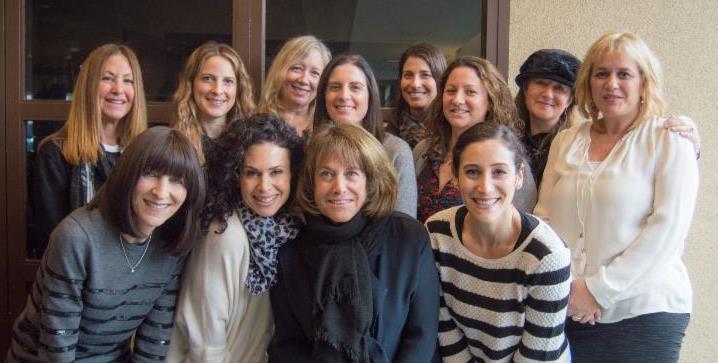 Neuroscience, Early Childhood, and BJE: Innovative Program Inducts its Next Class
On January 12th, The First 36 Project recognized its first cohort of fellows and inducted its next class of twelve early childhood education professionals. The Simms/Mann Institute in collaboration with BJE and the Jewish Federation of Greater Los Angeles, has brought an innovative professional development program to Parent Educators from fourteen BJE-affiliated Early Childhood Centers based on cutting-edge neuroscience.
"One thing that I did not study in college, or graduate school, was brain science - the technologies that make that study and the rich findings that we have today simply were not available." Said Sari Abrams, a First 36 Fellow from the original cohort. "When I attended my first event as a First 36 Fellow, Dr. Ruth Feldman's lecture, I felt like I had come home. As Dr. Feldman shared her findings concerning the role of oxytocin in early caregiving relationships, and her exciting and groundbreaking longitudinal study of parents and children involving brain scans when the babies become young adults, I was mesmerized and hooked."
In addition to attending the Simms/Mann Institute Think Tank, The First 36 Project Fellows gain access to a variety of Institute resources, including curriculum modules that integrate the latest in child development theory with cutting-edge neuroscience research related to children ages 0-3. Fellows engage in cohort-based learning experiences, as well as one-on-one coaching and consultation, including class visits, observation and feedback.
"As soon as we realized that this wasn't a race to memorize information and that there wouldn't be a test at the end, we all started settling in and understanding that the real point was for us to digest and process these new facts so that we could make them understandable to our parents." Said Lisa Whitman, another original First 36 Fellow "We were to be a conduit from the brain scientists to the young parents in our classes, so that they could then incorporate this information into how they raised their children."
The new cohort will carry forward its work on the First 36 Project throughout 2017, with impact on Jewish Early Childhood Centers and beyond for many years to come.
For more information contact Leslie Silverstein.