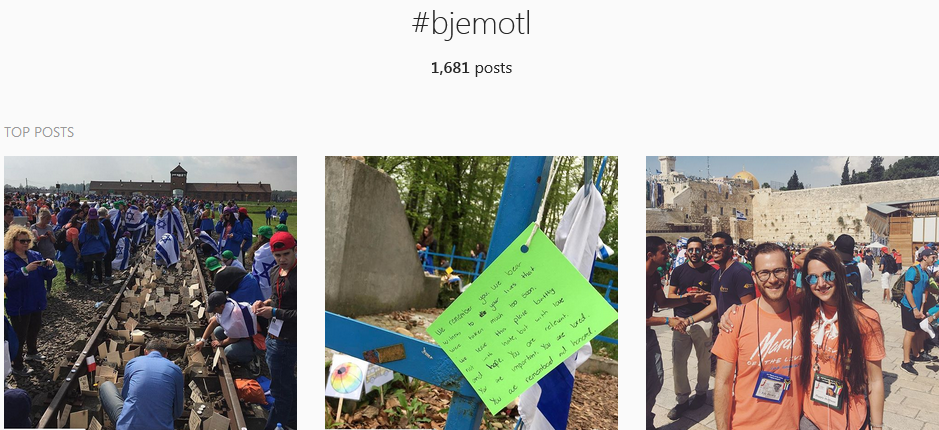 Reflections from BJE's March of the Living
Throughout the 2 weeks of the trip, we experience the full scope of both the horror, and the hope, that humanity is capable of. We stand as witnesses in places where we confront that it is possible that human beings can do such things to one another, ask ourselves what we want to do with this knowledge, and also celebrate the hope, heroism, joy and beauty of humanity. We stand one afternoon at a mass grave of Jewish children and just a day later celebrate the joy of Judaism, Jewish life, ritual, traditions in a Havdallah ceremony in one of the oldest synagogues in Warsaw, and then sing, dance, and crowd-surf our survivors to the joyous music played by a Klezmer band.  We experience Yom HaShoah at Auschwitz-Birkenau, followed by Yom Hazikaron and Yom Ha'Atzmaut a week later in Israel. Our trip spans the full spectrum of Jewish life.
              - Alisha Pedowitz, BJE's Director of The Center for Excellence in Teen Experiential Education

Zbylitowska Gora - from the blog:
Our morning in Kraków started under sunny skies and mild temperatures. We took a very short bus ride to the Jewish quarter of Kraków and enjoyed a glimpse of the rich history of Jewish life in this beautiful city, which extends back to the 12th century. At that time, Jews were invited, valued and protected residents who contributed richly to Polish society. In Kraków, we saw many remnants of that life, including three beautiful synagogues, posters advertising klezmer performances, and restaurants that serve Jewish food.
Upon completing our walking tour, we boarded the buses and made the drive to one of the most difficult sites of our trip: Zbylitowska Gora, located just outside the town of Tarnow.
A short walk through a well-tended middle class neighborhood is a lovely forest, where Nazis took all of the 800 Jewish children from the town of Tarnow, brutally beat them to death, and dumped their bodies into a pit not much larger than a backyard swimming pool. Today, we walked through that same idyllic forest to a simple patch of grass ringed by an equally simple blue metal fence: The final resting place of those 800 children. Standing around that fence as a single delegation, we tried to align the beauty of the forest and the near constant chirping and trilling of birdsong with the incomprehensible evil that occurred here. We cried, we sang, we blessed the children, we recited the mourner's Kaddish and took some time to offer the children our individual thoughts, written on pieces of paper and hung on the fence or nearby trees.  
          - Brian Milder (staff)
Student Reflections
It was surreal to be standing there, and at first, I really could not wrap my head around what had happened here, and could not really access my emotions. During our time for solo reflection I sat down near some flowers, and saw some that were still just buds and had not yet bloomed. I picked several of them and made a bouquet – and then immediately realized what I had done. It was just like all of these children. Their life was cut short, and just like the flower buds, would never have the chance to blossom into their full potential. I wrote my note to the children and hung it, with the buds, on a nearby tree. I want to teach others about what happened here, and encourage people to bring beauty, not hatred and evil, into the world. - Zoe
Standing in two lines and having the survivors march out of this place ahead of us was when it hit me. It was so bittersweet. There should've been so many more people walking between our lines. People from this town; people the same age as our survivors. - Aaron L.
This made me even more determined to live a meaningful life…a life these kids did not have the opportunity to have. I am more determined to do more, study harder, be kinder and love more. - Brian P.
The teens were all clearly impacted by the day and their reflections continued throughout the trip. 

Yom Ha'Atzmaut and the March of the Living, Jerusalem
This was a very big day, and one that was in stark contrast to our March in Poland. As somber as Poland was, this March was an equally exuberant and joyous celebration of our survival and thriving in the State of Israel.
Starting at Jerusalem's City Hall, we marched along the edge of the Old City until we entered through the gate and proceeded to the Kotel. Chants, songs, rhythmic drumming, prayers and waving Israeli flags were our constant companion as the delegations combined and snaked their way through the city.
We left notes in the cracks of the Western Wall, prayed and enjoyed a ceremony that concluded the March, after which our group was free to explore a portion of the Old City, buy souvenirs (again), and enjoy even more shawarma, falafel, ice cream and ice cafe.
Our day was far from over, as we boarded buses for Latrun, the IDF tank museum and home to the grand-finale of the March of the Living, enticingly entitled the MEGA Event. The MEGA event is rather hard to describe. Simultaneous lasers, dozens of dancers, massive video displays, fireworks, and aerial acrobatics were on full display (and that was only one number). A mosh pit and 55 cheers of "Am Yisrael Chai" rounded out a night that our students loved.
We finally returned to the hostel for a slide show compiled by staff-member Terry Wunder. It was an awesome recap of the trip, a link to which will be forwarded shortly.
Tomorrow we say goodbye to Israel. - Brian
If you would like to read their travels, please go to: bjemotlblog.tumblr.com.  You can follow on Twitter @MOTLbjela or on Instagram @bjemotl.