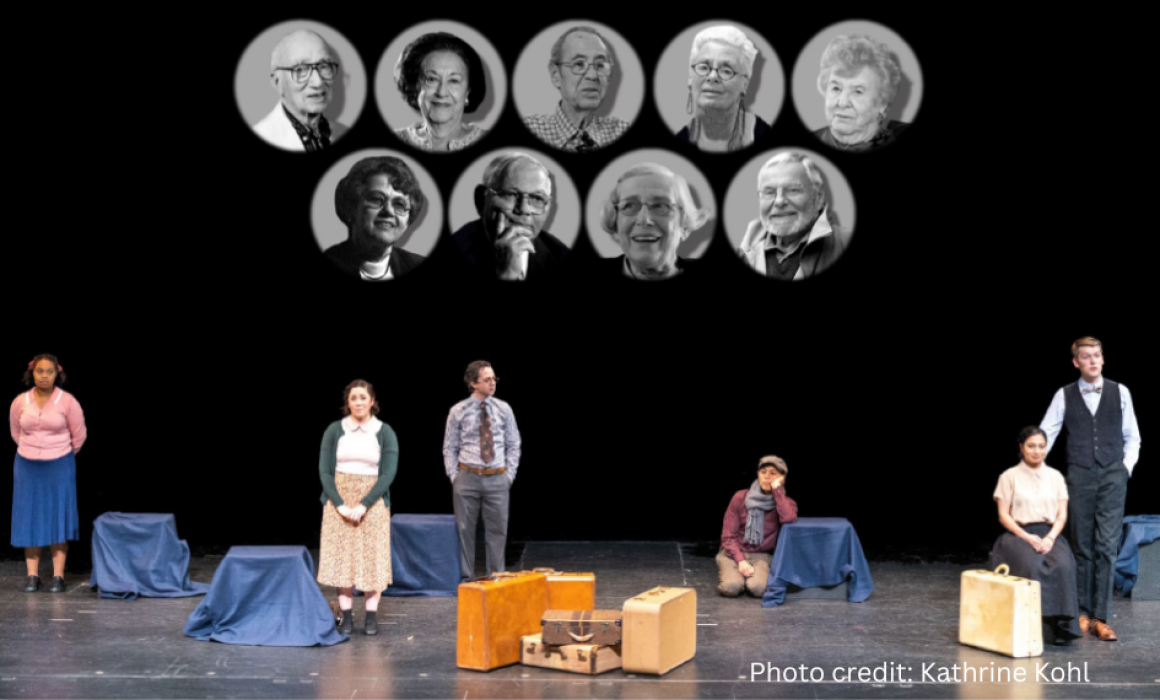 Sidonia Lax Memorial Presents Play SURVIVORS
Sidonia Lax z"l was a Holocaust survivor, a powerful educator and a force of nature. She participated in ten BJE Teen March of the Living trips to Poland and Israel when she was well into her eighties. On May 7, an original play SURVIVORS, was performed at a memorial tribute to Sidonia, who died earlier this year. 
 
The event, which BJE was proud to support, was held at Adat Ari El Synagogue. It brought together over a hundred friends, family, and fellow March of the Living participants, including survivors Eva Perlman and Gabriella Karin. SURVIVORS, written by Wendy Kout, was commissioned by CenterStage Theatre of Rochester, NY and is based on the lives of ten Rochester residents. Genie Benson, Sidonia's daughter, and Wendy Kout are co-producers of SURVIVORS West Coast. The play was directed by Evie Abat and is a production of Arts for Change. 
 
Sunday's production was introduced by Monise Neumann, International March of the Living consultant and former Director of BJE Teen Experiential Education, who led BJE's March of the Living program for high school seniors for many years. 
 
Speakers at the event included State Senator Henry Stern, who recalled how he met Sidonia when he was a child encountering antisemitism at school. Sidonia came to his school and spoke to the class, teaching them about antisemitism and hatred. They remained friends with thereafter. Randy Fried, long-time staff member of BJE's Teen March of the Living, and Sidonia's grandson, David Benson, each spoke of her determined nature. Sidonia strongly believed the lessons from the Holocaust should not be forgotten. Members of the cast spoke about how performances like SURVIVORS are still essential today, as books about the Holocaust are being banned in Florida and elsewhere.
 
The play follows the stories of ten survivors and their horrifying experiences as Nazis separated them into restricted neighborhoods, and the Final Solution pitted neighbor against neighbor. The survivors portrayed were Rosemarie Moiserz"l, Helen Przysuskierz"l, Ellen, Lewinskyz"l, Evie Schuermanz"l, Eva Abramsz"l Arthur Herzz"l, Henry Silbersternz"l, Erich Arndatz"l, Carl Voldmanz"l and Kurt Weinbachz"l. Their stories were beautifully performed by a superb cast (actors Yahm Steinberg, Almanya Narula, Nyani Totty, Casey Adler, Michael Bosse and Andrew Abaria) which received a standing ovation.
 
Speaking to the audience and with each other, the actors described where the survivors were in the 1930s when the pogroms and war began. The play ends a few years after liberation while they try to find a place to live.
The performances were chilling, as the then-children spoke about their parents disappearing, sisters being separated from their families and about the arbitrary decisions made as to who would live or die. 
 
The play continued, showing how the survivors survived post liberation - many turned away at the border to the United States because of quotas, and having to move from country to country in search of a place to live. 
 
Each year a BJE-led delegation takes hundreds of teens, survivors, and staff to Poland to join the International March of the Living, encountering Jewish life in Poland as it was experienced pre-, post-, and during the Holocaust. After a week in Poland, the journey proceeds to Israel, where teens commemorate Israel's Memorial Day and celebrate Israel's Independence Day. 
 
If you would wish to make a tribute to BJE's March of the Living in memory of Sidonia Lax, please click here.
For information about BJE's 2024 Teen March of the Living, contact Abby Cutler, BJE Director of Teen Experiential Education [email protected]
 For information about BJE's 2024 March of the Living program for adults, contact Miriam Prum Hess, [email protected]