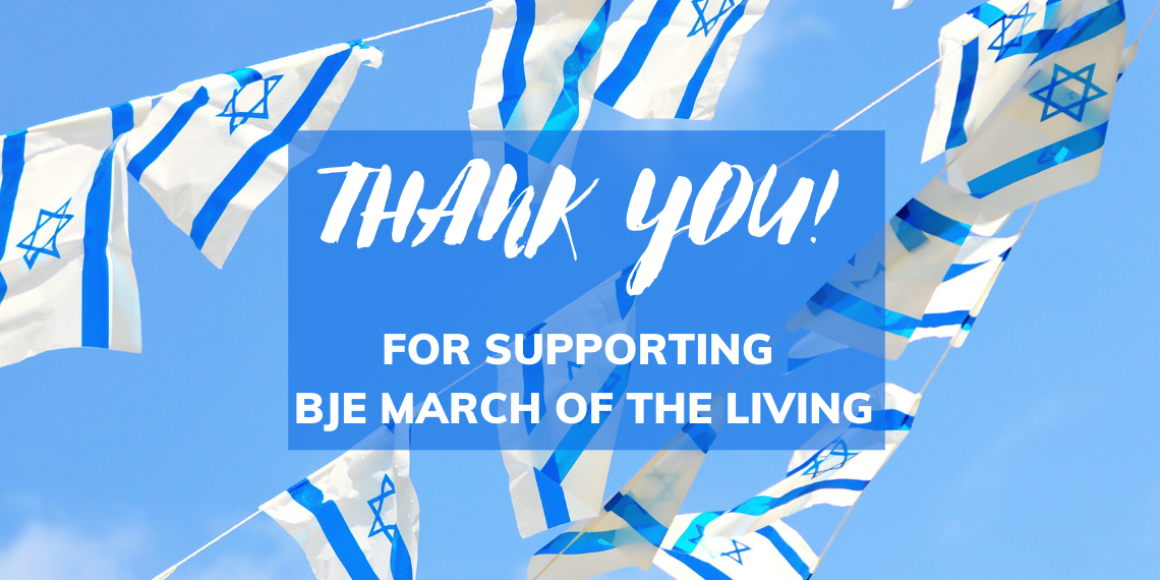 As We Move Into Indepence Day - Thank you for supporting BJE March of the Living
For two weeks, friends of BJE March of the Living helped make a huge impact on social media by donating to BJE's special Facebook campaign, sharing the campaign with their friends, and holding their own Facebook campaigns. The result of these efforts was the most successful single social media campaign BJE MOTL has held to date, helping raise $30K, exceeding BJE's goal.
In addition to the special fundraising effort, BJE's experiential education staff partnered with Milken Community School, International March of the Living, and Holocaust Museum Los Angeles, to create a virtual two-day Conference for Jewish high school seniors in California, the US, and across the world. Read the Jewish Journal story about this compelling program.
BJE and SOCAL Shinshinim partnered for a special Erev Yom HaShoah evening of remembrance featuring Holocaust survivor and artist Gabriella Karin, who has travelled on the March with BJE's LA-based delegation in the past.
Now we look forward to joining with International March of the Living in a virtual Yom HaAtzmaut celebration.
"Despite the disappointment of being unable to travel on the March this year, we're so proud of the incredible efforts of our professional staff to bring meaningful experiences to teens and the greater community," said BJE Executive Director Gil Graff. "And we're enormously grateful for the communal response to our fundraising effort, helping to ensure the continuation of this important programming."
For more information about BJE March of the Living, click here, or contact Maya Aharon, Director of BJE Teen Experiential Education.