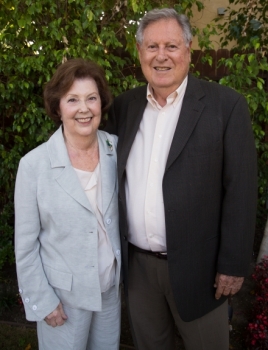 Your Support Builds Jewish Education in Los Angeles
THE DINNER IS SOLD OUT - IF YOU WISH TO BE PUT ON A WAITING LIST PLEASE CONTACT DEBORAH REISSMAN 323-761-8637
BJE is delighted to honor the Miller family at its 2017 Gala. Led by patriarch and matriarch, Louis and Judy Miller (pictured here), who have devoted themselves to supporting and building Jewish education, the 25 members of the Miller family all share this strong commitment to Jewish education. Across Los Angeles, four generations of the Miller family are making an impact on a wide range of institutions and facets of Jewish life.
In addition, BJE will recognize Phil Liff-Grieff, BJE Associate Director, and Monise Neumann, long-time Director of BJE's Center of Excellence in Teen Experiential Education, with over 70 years combined professional leadership in building Jewish education.
The Gala, part of BJE's Annual Campaign, raises funds that enable BJE to reach ever growing numbers of children and families, furthering the mission of encouraging participation in Jewish education, enhancing the quality of Jewish education and increasing access to Jewish education.
This year's BJE Annual Campaign goal is $1.275 million in unrestricted dollars, in addition to grant support from a variety of investment partners. 
Join us in honoring the Miller Family and recognizing Phil Liff-Grieff and Monise Neumann Wednesday, January 18, 2017 in Barad Hall at Sinai Temple. Contact Deborah Reissman, 323.761.8637 to purchase tickets.