Educational Resources and Articles for Parents and Educators
Reflecting on George Floyds Death and Police Violence towards Black Americans
Responsive Curriculum Sample: Racial Justice from Moving Traditions

Hot Topic: Racism, Police, and Community: Lesson plan, source sheet, and student article – that helps teens consider complex issues from a Jewish perspective from Behrman House (complimentary through June 16, 2020).
From Moving Traditions: Racial Justice, Rage, Riots, and Righteousness, connects the voices of people of color with Jewish values and makes space for teens to process their feelings and reactions in response to the George Floyd murder and the protests and riots that followed.
Lesson Plans by Grade Level on Race and Ethnicity by Tolerance.org
Resources for Talking about Race, Racism and Racialized Violence with Kids by the Center for Racial Justice in Education
Becoming Upended: Teaching and Learning about Race and Racism with Young Children and Their Families by the National Association for the Education of Young Children
How to Talk to Kids about Race and Racism by Parent Tool Kit
A Children's Booklist for Anti-Racist Activism by Embrace Race
Talking to Kids about Race and Violence in America by the Child Mind Institute
Speaking Up to Everyday Racism by Southern Poverty Law Center
The Power of "We" an EJP article by Yavilla McCoy about how language used about race in classroom effects Jews of Color
Teaching About Race in a Jewish Day School by Dr. Eytan Apter
Table Talk: Family Conversations About Current Events by ADL
Professional Development Towards Becoming an Anti-Racist Jewish Day School by Benjamin Mann
Leaning Toward Inclusive, Racially Aware Jewish Day Schools by Benjamin Mann
Creating Support Structures for Jewish Diversity by Roni Ben-David, Lauren Cook, Yael Krieger
Raising Race Conscious Children by RaceConsciousness.org is resource to support adults who are trying to talk about race with young children. The goals of these conversations are to dismantle the color-blind framework and prepare young people to work toward racial justice. If we commit to collectively trying to talk about race with young children, we can lean on one another for support as we, together, envision a world where we actively challenge racism each and every day. Many of the blog's posts are geared toward White people but a community of guest bloggers represent diverse backgrounds and the strategies discussed may be helpful for all.
They're not too young to talk about race - a printout (below) showing child developmental perceptions of race from birth from the Children's Community School of Philadelphia that put together additional resources listed below.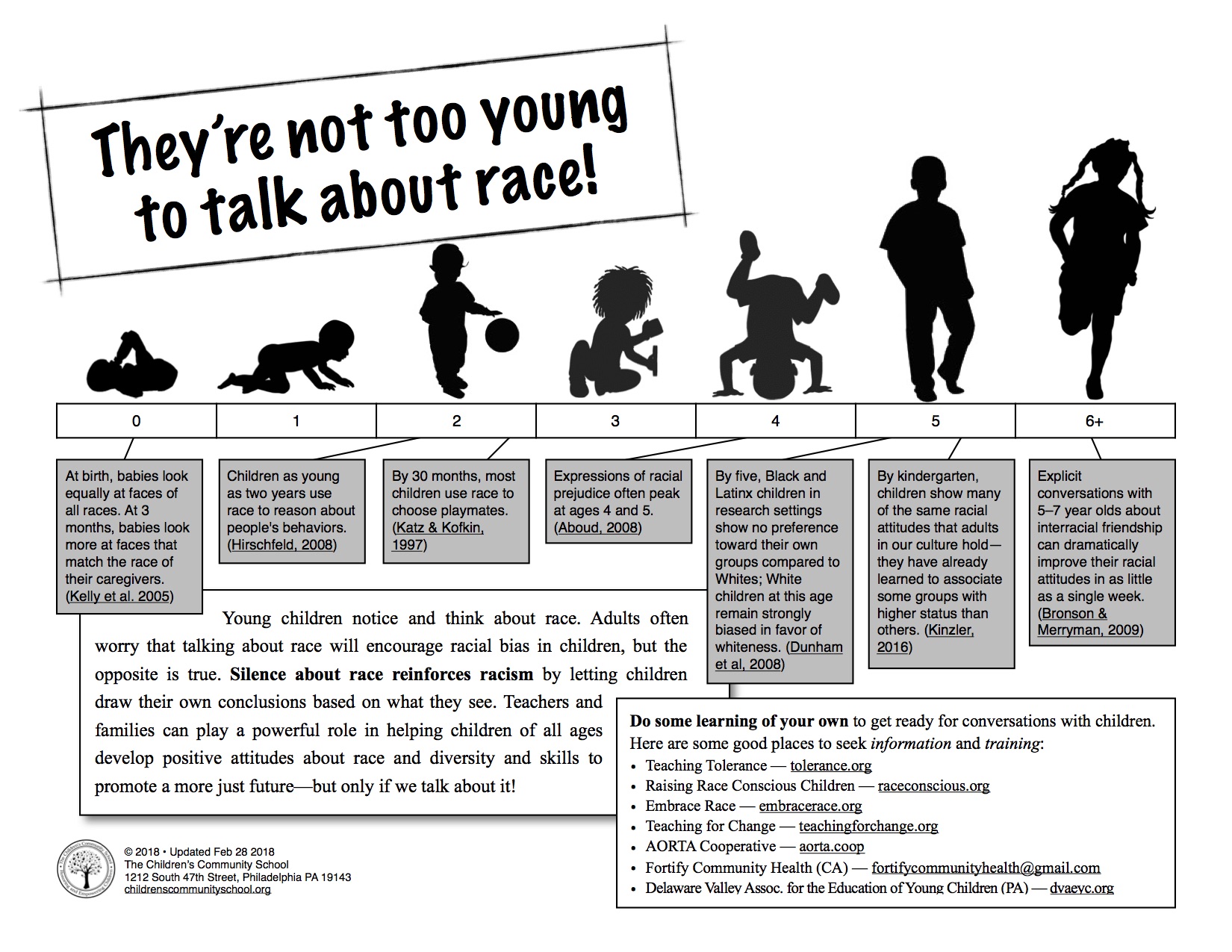 7 Things to Do When Your Kid Points Out Someone's Differences, by Rachel Garlinghouse. 
Talking With Children About Racism, Police Brutality and Protests, by Laura Markham.
6 Things White Parents Can Do to Raise Racially Conscious Children, by Bree Ervin.
How to Talk to Little Girls, by Lisa Bloom.
Mama, Ella Has A Penis! How To Talk To Your Children About Gender Identity, by Marlo Mack.
The Jewish Education Project has started a Pinterest page to collect resources for talking to young children about race here.