BJE March of the Living
FOLLOW THE MARCH




Teen Delegation

 
April 8 - April 23, 2018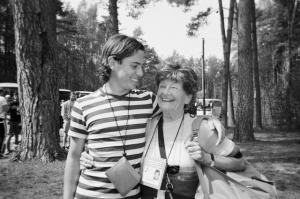 BJE March of the Living is a two week experience during which teens from all over the world travel together to Poland and to Israel to learn about the Jewish people's past, present and future. A 3-part orientation, the Farber Workshop Series, prepares participants for the experience. The program in Poland focuses on pre-World War II Jewry and the Holocaust. The Los Angeles delegation is honored to be accompanied by Holocaust survivors who become guides, story-tellers and surrogate grandparents to the group. 
Under the leadership of Maya Aharon, the 2017 Los Angeles Delegation consisted of 5 remarkable Holocaust survivors and just over 200 extraordinary teenagers who joined 10,000 Jewish teens from over 40 countries around the globe in remembering our past, living the present and marching into the future. 
FEES:  The fee for this unique program, including round-trip travel from Los Angeles, room and board, tuition and varied social and cultural programs, is $7,490*. There is a discount of $215 (bringing the cost to $7,275) for those who pay by check rather than by credit card. BJE no longer accepts cash.

FINANCIAL ASSISTANCE:  The BJE March of the Living experience is available to all Jewish teens, regardless of their family's financial status.  Individual subsidies and grants, as well as need-based assistance available.  Please check the box indicated in the online application if you wish to receive scholarship and financial aid information. For more information please contact Candace Brand at 323-761-8609.
*This rate is subsidized through a generous grant from the Jewish Federation.
The BJE March of the Living experience...
teaches a profound lesson in Jewish history, personal Jewish identity and has a powerful life-changing impact on its participants.  The program uniquely helps teens to face the most significant events in the modern history of the Jewish people as they weave them into their own personal connection to the Jewish people.   On Holocaust Remembrance Day the Los Angeles delegation, along with thousands of people from all over the world march in solidarity from Auschwitz to Birkenau to remember the lives lost during the Holocaust. In Israel, programming gives participants the opportunity to reflect on the hardships they saw during the past week, but also to look forward and see all of the incredible accomplishments and advancements the Jewish state has made since its establishment.  The core programming of the week in Israel is centered around two days: Israel's Memorial Day and Israel's Independence Day reinforcing the fact that Am Yisrael Chai – the Jewish people and the Jewish homeland live! 
For more information, contact Liat Vorobiev, Teen Specialist, BJE March of the Living at (323) 761-8635 or Maya Aharon, Director, BJE March of the Living, at (323) 761-8611.

BJE- March of the Living (Los Angeles) Experience Video