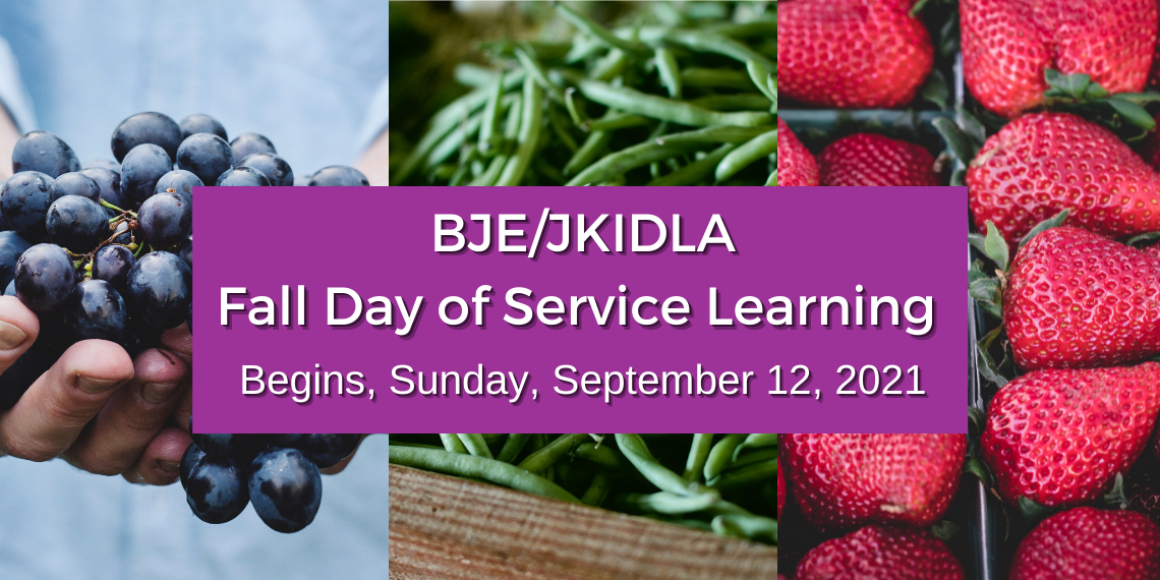 Join us beginning September 12th for BJE's Fall Day of Service Learning!
BJE/JKidLA Community Service Learning Opportunity: Let All Who Are Hungry Come and Eat
This year, our BJE community is unable to safely gather for our annual fall Service Learning program, but we are still offering a wonderful service learning opportunity for you and your family, in partnership with the Westside Food Bank and SOVA Valley office.  
Beginning Sunday, September 12, we invite you to collect and deliver items from the following organizations:
Westside Food Bank's wish list:
Toiletry items: deodorant, shampoo, hand sanitizer, small packages of wipes, hand lotion, toothpaste, and toothbrushes
Food items: any cereal, juice in plastic bottles or juice boxes, and any protein bars
Please plan to drop off items at Westside Food Bank on Sunday, September 12 from 11am - 2pm, or Mondays - Fridays, 7am - 3pm. Drop off location and parking information for Westside Food Bank is 1710 22nd Street, Santa Monica 90404. Park in the slots facing toward the building, to the left of the walkway.
SOVA Valley office's wish list:
Preferred Kosher items: Canned Tuna, Nut Butter, 100% Juice (plastic), Low-sodium Canned Vegetables, Cooking Oil, Whole Grain Cereal (Hot or Cold), Low-sodium Canned Tomato Products, Low-sodium Canned Soup, Personal hygiene items, and toiletries (such as toilet paper) and other household items.
Drop-offs at SOVA Valley office are: Sunday, September 12 from 11am to noon, or Mondays - Thursdays 8:30am – 4pm, or Fridays 8:30am – 3pm at 16439 Vanowen Street, Van Nuys, CA 91406.
We thank you in advance for participating and making a difference in our community. 
Click on these links for Information about food insecurity and a family friendly worksheet exploring Jewish values related to food insecurity:
 Family Friendly Worksheet     Food insecurity in our neighborhood - Teens
Food Insecurity During Covid - Adults
Learning About Food Insecurity - Adults
Food Insecurity in Los Angeles County - Adults
Community service hours are available.
For further information please contact Millie Wexler at 323-761-8633