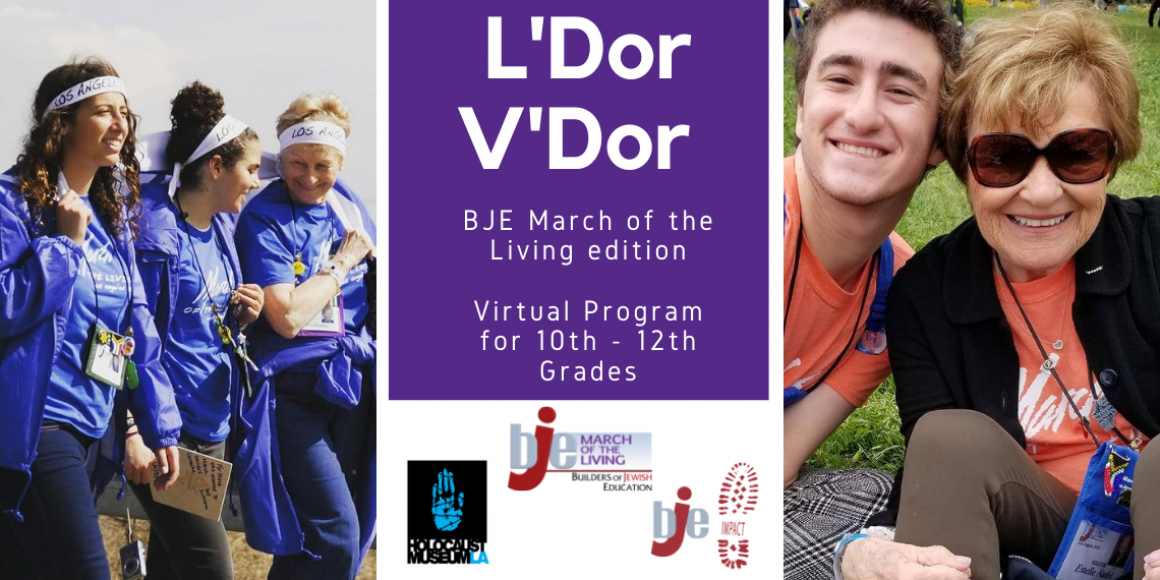 L'Dor V'Dor: BJE March of the Living Digital Edition
From August 2-5, 2021, BJE will hold a summer session of L'Dor V'Dor: BJE March of the Living Digital Edition, in partnership with Holocaust Museum Los Angeles (HMLA). The program is designed both to offer 10th through 12th grade students a meaningful service learning experience, and to offer isolated and vulnerable Holocaust survivors additional opportunities to share their stories of resilience.
Participants will meet in cohorts with Holocaust survivors to hear their life stories, and personal experiences of survival. The hope is that teens will gain a deeper understanding of Jewish community and life in Europe before the war, as well as meaningful insight into how people persevere in the face of adversity. The program gives survivors the opportunity to reflect on the idea of their legacies.
Teens will participate in an opening training session focused on how to have meaningful conversations with Holocaust survivors. The survivors, in turn, have been well trained by the HMLA in using zoom and other technology to connect. In addition to their weekly group conversations, teens will be asked to partake in some weekly reflection activity framed in Jewish values. This will include both group discussions, and personal journaling.
Program dates and times:
Monday-Thursday, August 2 – 5, 3:30-5:00pm via Zoom.