Reshet-LA Bitmoji Classroom Resources
A Bitmoji Classroom (or sukkah or other virtual space) is a fun way to engage younger students. There are many excellent videos already available on Youtube (for two great tutorials, click here and here) that show how you can create a fun, personalized interactive digital "space" using the Bitmoji app and Google Slides. 
A great article in Edutopia explores the ways that Bitmojis and Bitmoji Classroom can be used in education. It can be found here
There are many potential curricular uses for Bitmojis in the part-time Jewish school. A few samples are shared below:
(We are always looking for more examples of the use of these online tools in part-time Jewish education. To submit a sample lesson or activity, click here)
Bitmoji Sukkah
(an excellent way to build community amongst students and staff; also a wonderful tool for teaching about ushpizin- the custom of symbolicly inviting notables into one's sukkah)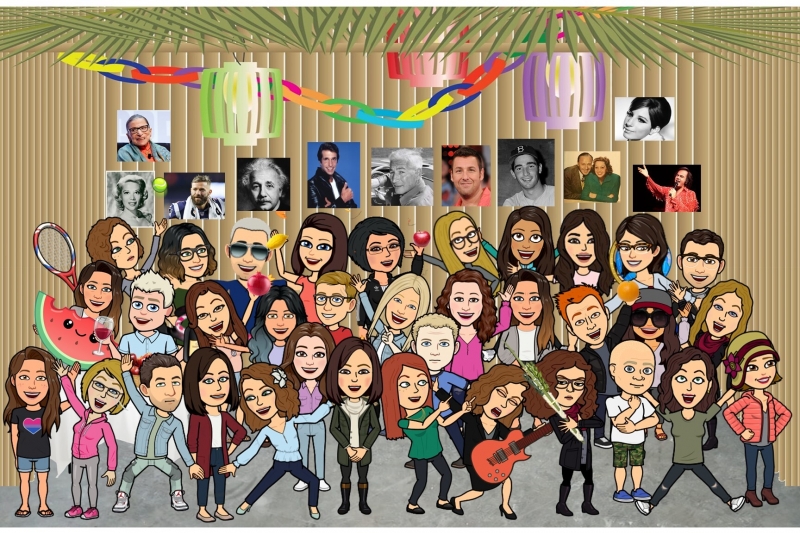 How was this used? "We asked parents to sent in their own Bitmoji as well as suggestions for ushpizin. At our opening assembly, we shared it and asked kids to find certain recognizable members of our community - the rabbis, cantor, teachers, and a few well-known adults. They I asked kids to identify the usphizin on the walls and share ideas for who else they would invite. Kids and parents enjoyed it!"  (Contributed by Rabbi Rebecca Yussman from Temple Menorah, Redondo Beach, California)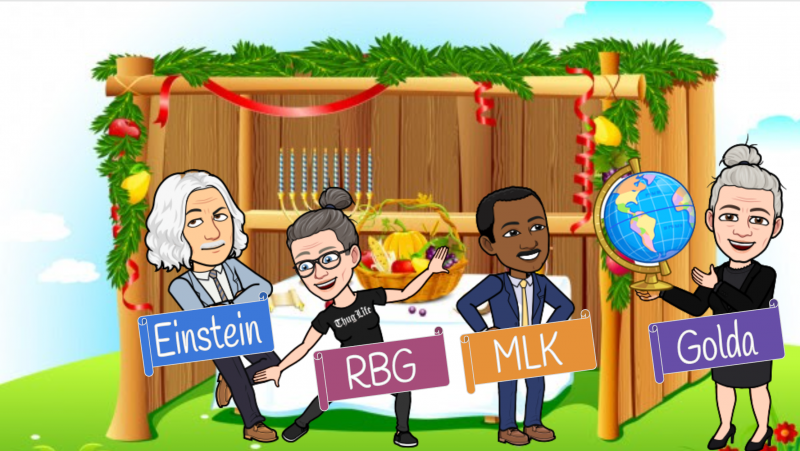 How was this used?
"
We used this as an example of how families could create their own Bitmoji Sukkah and invite in any Ushpizin from any time in history. These were all shared on a Padlet for the community to see.
" (Contributed by Rabbi Adam Lutz, Director of Education at Temple Emanuel, Beverly Hills, California)
Using Bitmojis to build community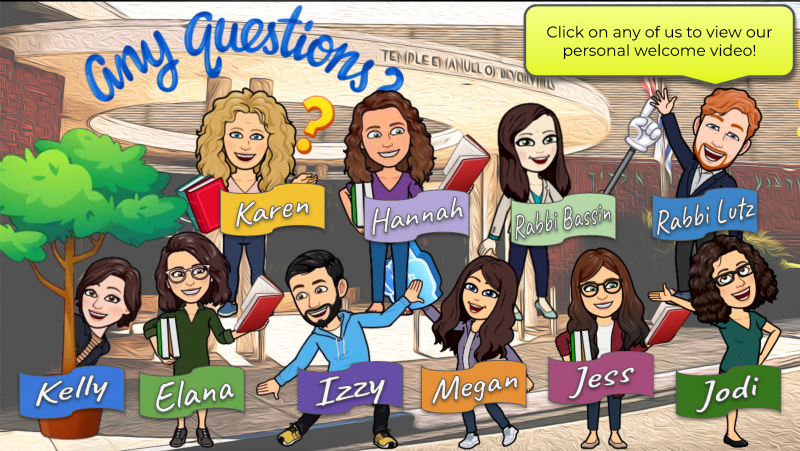 How was this used? 
We used this Bitmoji school to introduce the entire teaching staff to the students and parents. Each bitmoji was linked to that person's welcome message which was hosted on YouTube. Students and families loved meeting our staff virtually this way."​ 
(Contributed by Rabbi Adam Lutz, Director of Education at Temple Emanuel, Beverly Hills, California)