Director, Center for Excellence in Early Childhood and Day School Education
323.761.8622
[email protected]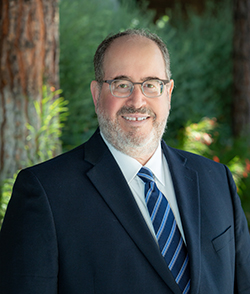 As Director of BJE's Center for Excellence in Early Childhood and Day School Education, Rabbi Jim Rogozen oversees the agency's wide range of support to schools, educators and families, with a particular emphasis on the 34 BJE affiliated K-12 schools, as well as the 57 BJE affiliated early childhood programs. His areas of expertise include strategic planning, creating mission/vision statements, organizational alignment and systems, leadership development, Judaic Studies curriculum planning and implementation, change management, and board development. In his work at BJE, he also helps schools strengthen their finance and governance practices. 
A Los Angeles native, Rabbi Jim Rogozen began his career at BJE in the High School Programs department in 1984. He served as a Head of School for 29 years, primarily at Gross Schechter Day School in Cleveland, Ohio. Under Jim's leadership, Gross Schechter was one of the first day schools in the country to establish an annual 8th grade trip to Israel, and to hire a full time Family Educator. It was the very first day school to receive a gold-level designation in the USDA's Team Nutrition Challenge, and to be invited to the White House to receive the award. Jim also served as the Chief Learning Officer at United Synagogue of Conservative Judaism in New York, overseeing the Solomon Schechter Day School Network, USY, and Congregational Learning departments.
Jim has been deeply involved in regional and national leadership positions. He served as the chair of the Northern California Day School Principal's Council for seven years, as the chair of the Schechter Principals' Council, and the board chair of the Schechter Day School Network. He was also on the founding executive board of RAVSAK – the Jewish Community Day School Network. Jim was a mentor for two cohorts of the DSLTI program, in which he created curricula for training new heads of school, and mentored administrators from a variety of schools across North America.
 
Jim's academic journey began with regular afternoon Torah study with his uncle, a retired Rabbi. He went on to earn two undergraduate degrees in Psychology and Rabbinic Literature in the Joint Program between UCLA and the University of Judaism (now AJU). He also earned an MA in Teaching and an MA in Educational Administration at the UJ during his first years in Rabbinical School. He received an MA in Jewish Studies, and was ordained at the Jewish Theological Seminary in New York. He was in the first cohort of the Schechter Day School Principal's Program (now called DSLTI), a two-year post-graduate academic collaboration between JTS and Teachers' College at Columbia University. Jim received his Doctor of Pedagogy, Honoris Causa from JTS in 2010.
During his youth, Jim played Little League baseball at Rancho Park, celebrated his Bar Mitzvah at Temple Beth Am, moved to Westwood where he enjoyed playing basketball in the mornings with Michael Jackson (yes, that Michael Jackson!) at Emerson Junior High, and then moved on to Varsity Tennis at University High. One big success in high school was earning his Eagle Scout badge; less noteworthy was his experience playing an incidental character ("Sailor B") in the Hebrew production of South Pacific at Sinai Temple.
Jim and his wife, Marci, a Jewish Day School teacher, have two daughters who are alumnae of Jewish Day Schools.
 
PUBLICATIONS
BJE Blog:  https://bjela.org/blogs/rabbi-jim-rogozen
Rabbi Jim: Still Learning Blog 
eJewishPhilanthropy Posts: