Rabbi Nicki Greninger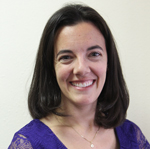 Rabbi Nicki Greninger has served as Director of Education at Temple Isaiah in Lafayette, CA since 2008. She was ordained as a Rabbi from HUC-JIR, where she also earned a Masters of Arts in Religious Education. Rabbi Greninger is a recipient of the Covenant Foundation's prestigious Pomegranate Prize and is the author of "Believing, Behaving, Belonging: Tefillah Education in the 21st Century" in the Journal of Jewish Education.
For more information about Temple Isaiah's Hebrew program in advance of the session, click here.