Register NOW for BJE's Annual Day School & Yeshiva Administrators' Leadership Retreat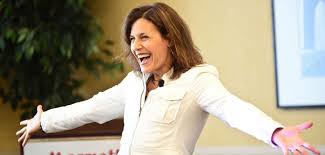 Registration is now open for BJE's Annual Day School & Yeshiva Administrators' Leadership Retreat on Tuesday, February 12th, from 8:00 a.m.-2:00 p.m. Please note the earlier start time. 
We are thrilled to announce that, due to popular demand, Rae Ringel will be with us again this year.
The topic of the day is The Joy of Working with People: Facilitating Better Meetings
This session will first focus on building the infrastructure components for powerful facilitation and design, and then taking it to a deeper level beyond individual components but creating an overall experience. However, meetings are not one size fits all. Successful leaders and managers adapt their styles and strategies to meet the needs of the group and address what is happening in the meeting.  By doing so, they draw the best ideas out of their teams.  Whether coping with a "back-seat facilitator," a "flat" meeting with little participation or an "interrupter" who makes it hard to get through the agenda, we have all encountered challenging behaviors that disrupt meetings, and we have all been these people, too. This lively session is geared towards participants who facilitate meetings and who want to develop the skills to handle the full spectrum of dynamics that can show up in meetings.
Objectives of the session include:
·         Build the infrastructure components for a powerful facilitation
·         Collect the appropriate intelligence based on the group's needs
·         Develop Learner Objectives: Craft learner-based objectives with an eye towards broadening learners' skills, knowledge, and aptitudes
·         Learn how to anticipate and prepare for meetings that may have challenging dynamics
·         Discover and practice proven facilitation strategies and interventions to keep meetings on track and build buy-in and engagement from participants
Many of you may have had the opportunity to learn from Rae Ringel in the past.  If you have, you know how incredibly knowledgeable and engaging she is.  If you or your leadership team have not worked with Rae Ringel, this is your opportunity!  Rae is a highly recognized innovator in the areas of leadership development, coaching and facilitation within the Jewish community and across both non-profit and for-profit sectors.  She is a faculty member at the Georgetown University Institute for Transformational Leadership and the founding director of Georgetown's new, first-of-its-kind Executive Certificate in Facilitation Program (https://scs.georgetown.edu/programs/415/certificate-in-facilitation/)
We encourage you to bring a team of administrators and/or teacher leaders to learn more about how they can better enlist support from their team members on a regular basis.  
We look forward to your school's participation! 
If you have any questions, please do not hesitate to contact Marie Perez at [email protected], or call her at 323-761-8612
REGISTRATION INFO:
REGISTRATION INFO:
The Early Bird fee for BJE accredited schools is $80.00 per person for the first 4 registrants and $65.00 for any registrant over 4 from the same school. 
The fee includes continental breakfast, lunch (dietary laws observed), valet parking, and an incredible day of learning and networking.   
To receive the early bird registration rate, schools and their participants must register by Friday, January 25th .  
Any BJE-affiliated registrations received after Friday, January 25th will be at the rate of $105.00 per person. 
To register, (Ctrl+ Left Click)    HERE 
All registrations must be received and paid by Wednesday, February 6th.