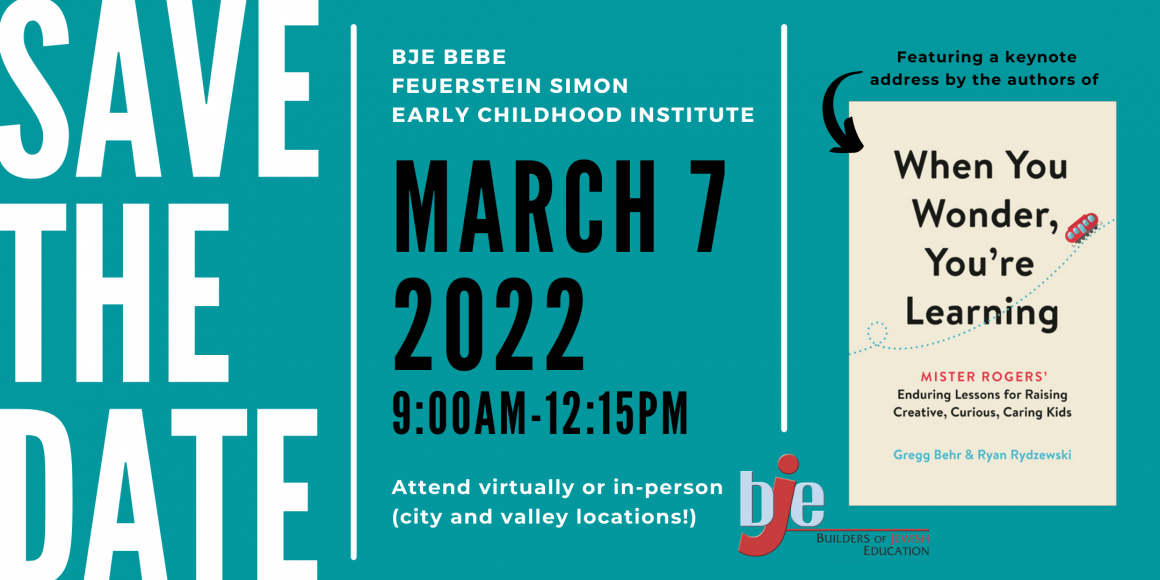 2022 BJE Bebe Feuerstein Simon Early Childhood Education Conference
The Bebe Feuerstein Simon Early Childhood Institute is one of several BJE programs that offers quality professional development to early childhood educators. This annual conference attracts over 300 early childhood teachers for a day of learning, skill building and professional growth.
The theme of the Institute is "When You Wonder, You're Learning." We are delighted to have Gregg Behr & Ryan Rydzewski, co-authors of When You Wonder, You're Learning: Mister Rogers' Enduring Lessons for Raising Creative, Curious, Caring Kids, as our keynote speakers to kick off the morning.
This year will look a little different than in recent years. We will be hosting our conference simultaneously at four different BJE-affiliated school sites in both the city and valley: Temple Isaiah Preschool, Pressman Academy of Temple Beth Am ECC, Temple Judea ECC, and Valley Beth Shalom ECC. In addition, for those that cannot attend in person, we will be hosting a virtual option.
After a conference-wide virtual keynote address, you will have the opportunity to take a tour of your chosen school site and find out more about an area in which each excels. After the tour, participants will engage in a workshop that digs deeper into that highlighted area. While this year's conference will end a little earlier than previous year, we strongly encourage school directors to invite their teachers back to their own school site in the afternoon to debrief what they have learned earlier in the day.
Due to the ongoing pandemic, proof of full vaccination will be required for all in-person conference participants and masks will be required at all times, except while eating. For those unable to join us for an in-person conference, we are also offering an entirely virtual track where participants will experience a school tour of Wilshire Boulevard Temple ECCs and a workshop, in addition to our keynote address.
Click HERE to register.  Click HERE to download the BJE ECE Institute Booklet