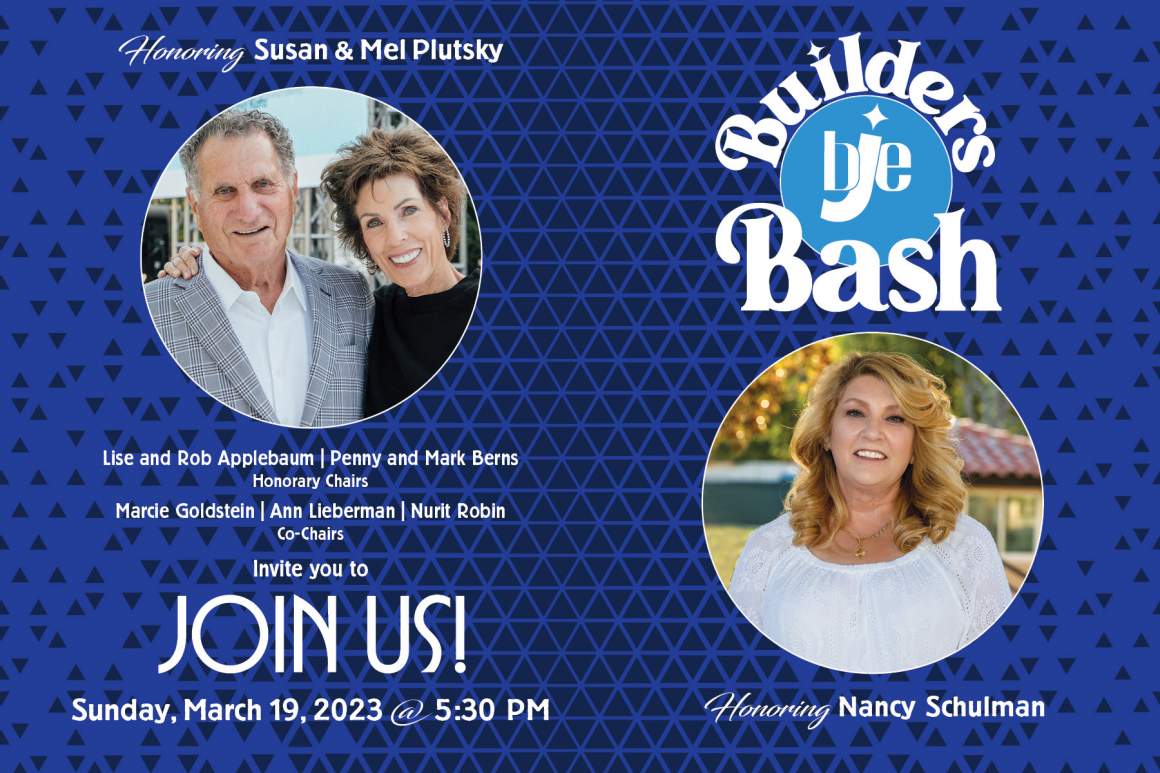 BJE Builders Bash - March 19, 2023
Co-Chairs
Marcie Goldstein | Ann Lieberman | Nurit Robin
Honorary Chairs
Penny and Mark Berns | Lise and Rob Applebaum
"Mel, Susan, and Nancy have a deep understanding of the value of contributing to the collective community. Their decades of support have helped BJE thrive as a communal resource for schools, educators, students, and parents."
       Dr. Gil Graff, BJE Executive Director
Click here for Tickets and Tributes
Appreciation for education and community leads many Jewish parents to lend their time, energy, and resources to the many schools that help make L.A.'s Jewish life so rich. But some parents, like this year's Gala honorees, Mel and Susan Plutsky and Nancy Schulman, see beyond their own schools to broader, community-wide engagement. BJE and the L.A. Jewish community are grateful to Mel and Susan Plutsky and Nancy Schulman for their decades of support and leadership.
We hope you will join us at the gala, when we honor these three distinguished leaders in Jewish education.
BJE is the only organization in Los Angeles wholly dedicated to supporting and enriching Jewish educational experiences, from early childhood through high school, across the full Jewish religious and cultural spectrum.
The safety of our guests is our highest priority.  Guests must provide proof of vaccination and subsequent boosters.
Location: Stephen Wise Temple:  15500 Stephen S. Wise Drive, Los Angeles, CA 90077