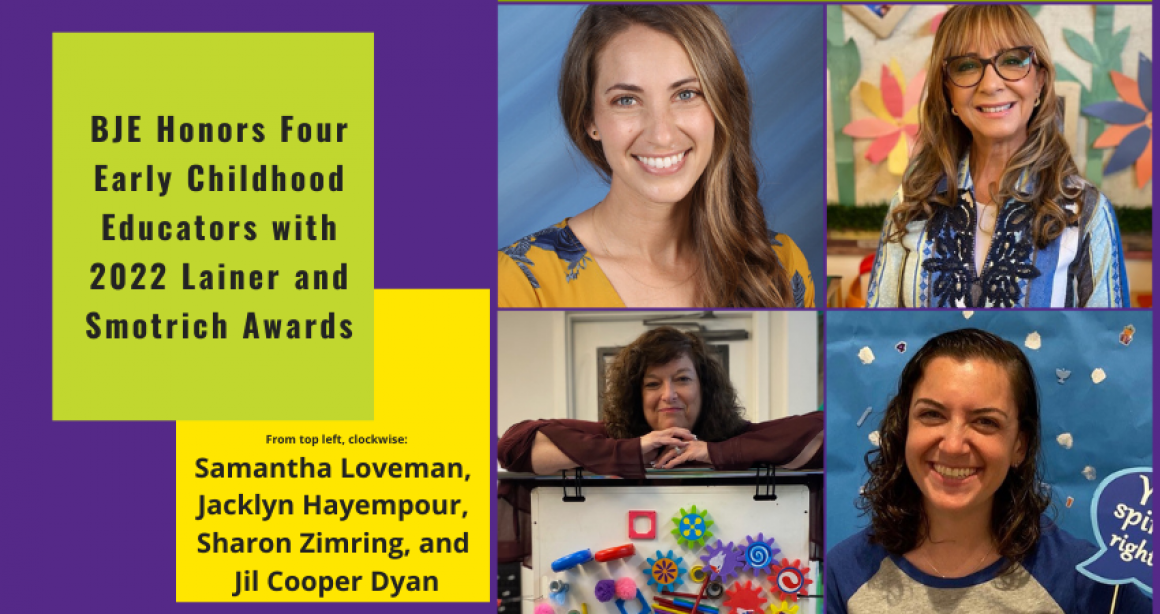 BJE Honors Four Early Childhood Educators with 2022 Lainer and Smotrich Awards
As we moved through a school year still hugely impacted by the pandemic, educators have continually risen to the myriad challenges. With COVID requirements constantly changing and evolving, early childhood educators in particular had to be more nimble than ever in educating and supporting our community's youngest learners. On May 18, four educators from BJE-affiliated early childhood programs were recognized for their many contributions to the field of education, both before and since the start of the pandemic, and their ability to pivot and adapt throughout.
BJE's Smotrich Award is given annually to an "up and coming" early childhood teacher – one who has completed two to seven years of teaching. The winning teacher receives a $1,000 prize, and the school receives a $500 prize. BJE's Lainer Award is given annually to up to three veteran teachers – those who have been teaching for at least eight years. The winning teachers receive a $2,500 prize. The awards are made possible through the generosity of the Smotrich Family Foundation and an endowment established by the late Simha and Sara Lainer.
Recipients are chosen from among nominations submitted by BJE-affiliated early childhood programs.
The Smotrich Family Foundation Award of Merit for Early Childhood Educators was awarded to Jacklyn Hayempour of Yeshiva Aharon Yaakov/Ohr Eliyahu.
The Simha and Sara Lainer Distinguished Educator Award for Early Childhood Education was awarded to: Jil Cooper Dyan of Temple Judea, Samantha Loveman of Temple Beth Hillel, and Sharon Zimring of Temple Isaiah Preschool.
Read what their nominators shared about each of them:
 
Jacklyn Hayempour of Yeshiva Aharon Yaakov/Ohr Eliyahu
Morah Jackie, as her adoring students call her, is committed to learning as much as she can so she can provide an educational environment that will provide the emotional, social, physical, cognitive, and spiritual knowledge and support where each child can develop in the most optimal ways. She understands what it means to collaborate with and support each teacher's contributions to the classroom while always sharing ideas, modeling skills, and celebrating successes. Furthermore, she is valued for her commitment to excellence, and for her flexibility, cooperation, responsibility, creativity, sense of humor and joy of life. One of Morah Jackie's greatest joys is observing the children's cognitive development and witnessing their minds expanding as they begin using their imaginations and become more creative in their thinking. Among her strengths are her responsiveness to suggestions, her thoughtfulness of and for others, her ability to connect with her young students with a natural ease, positivity, understanding, knowledge, and skill, her lack of ego and total commitment to the children's well-being.
Jil Cooper Dyan of Temple Judea
Jil always seems to be on the cutting edge of what's happening in early childhood education. She is a team player, and regularly plans curriculum with her partner and the other teachers in her grade level. She is always ready with a new idea, but also willing to listen to the ideas of others. The most significant curricular change that Jil brought to Temple Judea, was the creation of The Imagination Station. She worked with our former director to turn an unused classroom into a children's museum space that all of our children get to visit and explore regularly. Even though she did not work as a classroom teacher last year, she came to school every week to set up exciting adventures in the garden and the yards. She never stopped inspiring, even when she wasn't here full time.
Samantha Loveman of Temple Beth Hillel
Samantha has dedicated her career to the field of early childhood and Jewish eduation. She has that special, unteachable gift of knowing children. She motivates kiddos to reach their fullest potential and collaborates with parents as partners in the journey. She displays empathy and kindness with every communication. Our community leaders and families have come to value her guidance and respect her strong work ethic. In her role as our Programs & Development Manager she has led the charge in bringing new and innovative programs to our school. During Covid, her creativity and problem solving skills have been instrumental. Her professionalism and dedication have earned the trust and adoration of our kids, staff and families.
Sharon Zimring of Temple Isaiah Preschool
Sharon has an innate exuberance and joy of Judaism that is felt throughout each and every day. She is the consummate professional in every way: she is collegial, collaborative, has a growth mindset and a curiosity about her to try new things with every child and in every school year. She is always looking to improve and hone her skills and has become a mentor to her fellow teachers, as well. Sharon is a teacher who uses everything at her disposal to transmit Jewish learning to her students. She is the one that helps to keep up staff morale and ensure that all Jewish holidays, stories and mitzvot are covered each and every year.