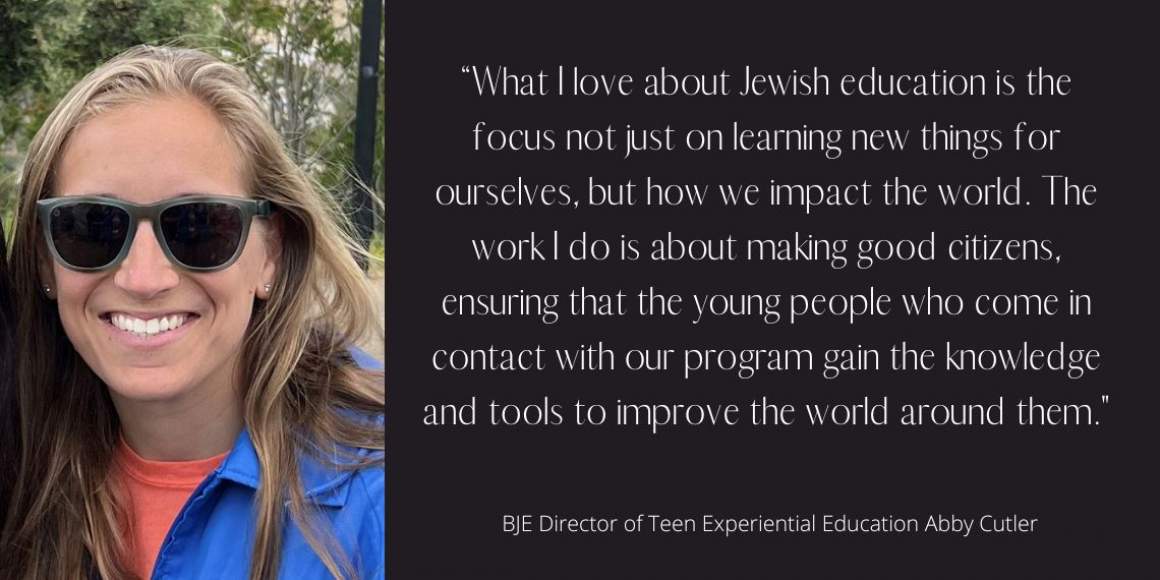 Meet BJE Director of Teen Experiential Education, Abby Cutler
This year's BJE March of the Living trip was notable both for being the only US delegation to participate in the international program, and to introduce one of the newer members of its senior leadership team, Abby Cutler, Director of Teen Experiential Education. Abby joined the BJE staff last fall and shared in leading BJE's 2022 March of the Living trip. 
Before joining BJE, Abby served as Director of School-Aged Programs at the Jewish Community Center of San Francisco, overseeing all aspects of programming for families and children in grades K – 12. In this role, she led a team of educators in providing meaningful and engaging programs, including teen theater-arts immersion, distance-learning support, and summer day camp, which involved a successful inclusion pilot, making camp available to all children. 
Abby is dedicated to the holistic development of good citizens, and passionate about programming that supports the growth of the next generation. Growing up in Oklahoma, Abby first experienced these kinds of strong connections and community forged in experiential education settings at the URJ Greene Family Camp and has been working to foster those opportunities for teens ever since.
 
She earned an BA in Psychology from Indiana University and an MA in Developmental Psychology from Columbia University. Abby lives in Los Angeles with her husband Donnie, and their two children, Micah and Jack. 
We asked Abby why Jewish education is important to her, and what makes her a Builder of Jewish education:
"What I love about Jewish education is the focus not just on learning new things for ourselves, but how we impact the world. The work I do is about making good citizens, ensuring that the young people who come in contact with our program gain the knowledge and tools to improve the world around them.
Sometimes that means teaching them about complex and serious subjects like genocide or anti-semitism, and other times it's as simple as reminding them to say please and thank you. I appreciate a holistic approach to educating kids; it's not just about knowledge, but about how you're going to use it to help others.
Builders of Jewish education lays the groundwork for Jewish educational experiences to take place. For me, I love looking working behind the scene, putting all the pieces together, laying the foundation for everything to come together. Talking to different stakeholders – clergy, educators, parents, students – and figuring out how to really understand and tackle the challenges we are all facing is one of my favorite parts of the job."
Click here to learn more about BJE's Teen Experiential Education programming.