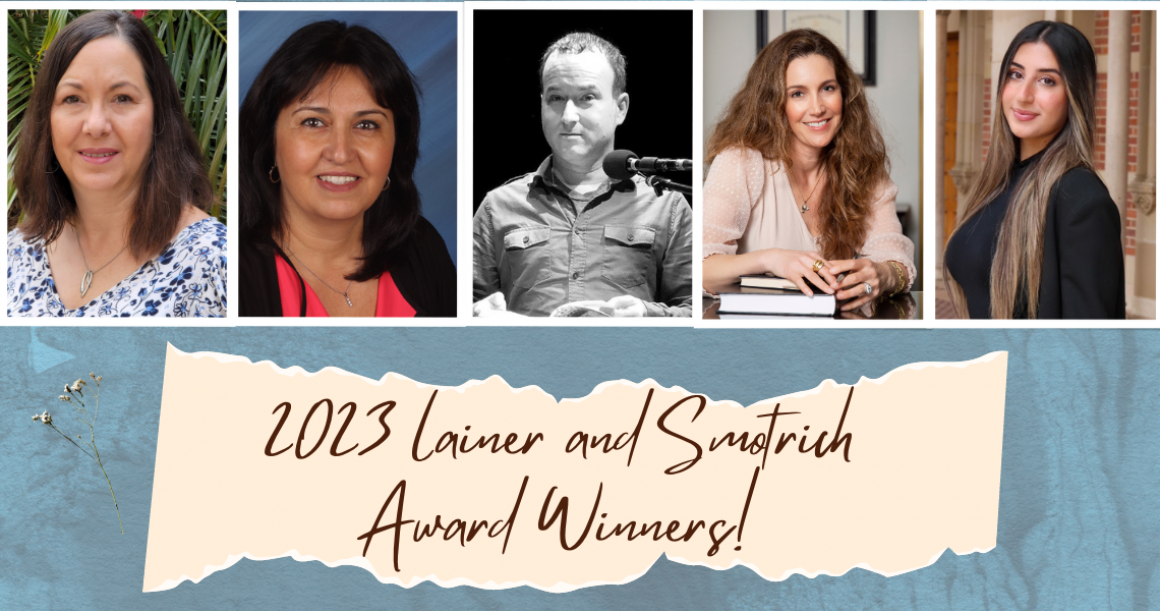 BJE Names Award-Winners for Excellence in Religious School Teaching
The 2023 winners of BJE's Lainer and Smotrich Awards have been named. These awards are made annually to educators working in after school, supplemental religious school programs in the Los Angeles area. They are made possible through an endowment established by the late Simha and Sara Lainer and the generosity of the Smotrich Family Foundation.
These awards truly reflect the excellence being offered to Jewish students and families in programs throughout Los Angeles.
Congratulations to our teachers, and to the schools that employ these exemplars of Religious School teaching.
The Lainer Award is given annually to up to three veteran educators – those who have been teaching for at least five years. Each award recipient receives a $2,500 prize. This year's winners are: Sigal Abukrat of Sinai Temple, Laura Dugatkin of Temple Etz Chaim, and Rick Lupert of Temple Ramat Zion.  
The Smotrich Award is given annually to up to two "up and coming" teachers – those who have completed two to four years of teaching.  The winning teachers receive a $1,000 prize, and the Religious School receives a $500 prize. This year's winners are: Danielle Azani of Sinai Temple and Maya Tenenbaum of Temple Etz Chaim.  
For more information about the Lainer or Smotrich Awards, or to learn more about BJE's Religious School network, contact David Lewis, Director, BJE Center for Excellence in Part-time Jewish Education at [email protected].
Photo (left to right): Laura Dugatkin, Sigal Abukrat, Rick Lupert, Maya Tenenbaum and Danielle Azani.
Sigal Abukrat
Sigal is our Hebrew Reading Specialist, by title, but she is truly a master of all trades. She is willing to jump in whenever she can and always with a positive attitude and eagerness to do her best for herself, the students and the school. She is magical when it comes to teaching Hebrew and has worked with hundreds of kids and taken them from not being able to read Hebrew to being at the top of their class. Her goal is to inspire the students, give them confidence and send them back to their classes knowing much more than they did before they worked with her. Time and time again, she succeeds at this goal, and it is a blessing to see each of her students blossom from her care. It is a gift to work with someone who knows there is an issue and doesn't talk about it, just does it. She is reliable and is a great support to me, our teachers and our students. She sets a dugma, an example for all of us and continues to teach in a humble and beautiful way.
 - Danielle Kassin, Religious School Director of Sinai Temple
Laura Dugatkin:
Laura offers an innovative and creative approach to teaching her students, giving them tools to become proficient in reading Hebrew. She always uses the latest and most remarkable techniques to engage her students. She quickly and enthusiastically embraces any new ideas, responsibilities, or challenges. She relates positively to students, parents, and colleagues. Her leadership and creativity have led to a meaningful educational experience that her students will never forget. 
- Joyce Bronstein, Religious School Director of Temple Etz Chaim 
Rick Lupert
Rick Lupert is an exceptional educator. His official title at Temple Ramat Zion Religious School is Music Specialist, but he is so much more than that. Every year, Rick brings new songs, melodies, and teaching to our students. He is always on the cutting edge of up-and-coming Jewish musicians and songwriters and masterfully interweaves these with traditional tunes, providing our students with a great breadth of Jewish musical knowledge. Each week, Rick includes in our Tefillah sessions a discussion about the Torah portion. Rick is a lifelong learner, studying the parshah for his own Torah lishma as well as to write poetry that is often featured in the Jewish Journal. By sharing this knowledge with the students and encouraging them to think about the meaning the parshah can have in their lives, Rick serves as a role model for continuing to learn Jewishly and artistic expression.
- Julia Levine, Religious School Director of Temple Ramat Zion
Danielle Azani
Sometimes, you are just in the right place at the right time! I was on the playground with our kindergarten class and the Rabbi was taking an Israeli gentleman and his daughter on a tour of Sinai. His daughter was attending school at UCLA, and he was visiting from New York, and wanted his daughter to meet the rabbi and tour the local Conservative synagogue. I was introduced to Danielle Azani and her father. She was friendly and smiling at all the kids. I asked if she had worked with kids, and she had and if she spoke Hebrew and she did...I then asked if she wanted to come the next Sunday to visit and see what she thought of our school on Sundays. She jumped right in...and I am still thankful for that day! Danielle was enthusiastic to be at Sinai and ready to take the challenge of teaching in one of our 4th grade classes. With so much love in her heart for Judaism, Hebrew and Israel, she won us all over! The students really loved being in her class. Danielle is easy going and always willing to take on a challenge with ease. She is reliable and comes to work prepared and ready to be a role model for her students. This year Danielle is teaching in both a 5th and 4th grade class. She has good classroom management and her confidence is amazing with the students. She continues to be open to learning and teaching and we are lucky to have her on the team!
team!
- Danielle Kassin, Religious School Director of Sinai Temple
 
Maya Tenenbaum
Maya genuinely loves teaching Judaism, and her students benefit from her cheerful demeanor. She offers insightful, thoughtful and carefully crafted lessons each week. She continually validates her students' thoughts by listening and responding positively. Maya has a gift for making our teens feel valued, accepted and comfortable. Because of the teacher she is, Maya can touch on sensitive subjects with expertise and compassion. Maya's Jewish heart and soul are apparent in everything she does. She is a naturally enthusiastic teacher with a genuine nurturing quality. The students adore her, and because of Maya – attendance is exceptional. 
- Joyce Bronstein, Religious School Director of Temple Etz Chaim