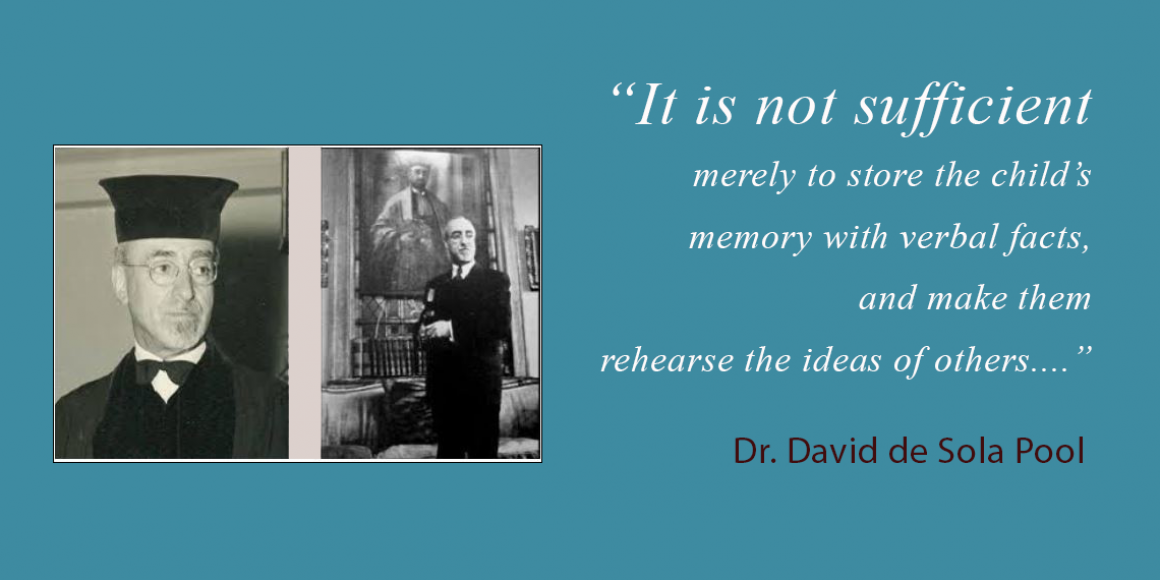 Of Project Based Learning and False Dichotomies
Many Jewish Day Schools and part-time Religious Schools have, in recent years, embraced Project Based Learning, a creative and engaging educational approach.  Project Based Learning calls on students to investigate and respond to a complex question, challenge or real-world problem.  Through collaborative investigation, students gain knowledge and skills; often, they are asked to share what they have learned with a larger audience.  
Recently, I looked afresh at the writings of Dr. David De Sola Pool (1885-1970), long-time spiritual leader of the Spanish and Portuguese Synagogue (Shearith Israel), in New York, and a nationally prominent personality in American Jewish life for scores of years.  British-born, De Sola Pool came to New York, in 1907, to assist his cousin, Dr. Henry Pereira Mendes as minister of Shearith Israel (the first congregation in what was to become the United States); he eventually succeeded him.  Parenthetically, no ordained rabbi lived in the United States prior to 1840, and, before and long after that time, many synagogues were led by clergy who did not hold rabbinic ordination.  In 1917, David De Sola Pool married Tamar Hirschenson who, in her own right, was to serve as National President of Hadassah.
The De Sola Pools spent 1919-1922 in Palestine; there, as well as in New York, David was deeply interested in Jewish education.  Writing in 1925, he urged – drawing upon John Dewey -- attention to the "project principle" in teaching.  "It is not sufficient merely to store the child's memory with verbal facts, and make them rehearse the ideas of others as they sit stiffly, or more often lounge sleeping, before the bored, mechanical teacher," he commented.  "In the project method, the curriculum encourages the initiation of work by the pupils."  Nearly a century later, Project Based Learning has been widely adopted in many settings of Jewish education.  
De Sola Pool made the point that there is no dichotomy between the "project principle" and student learning; in fact, the project approach enhances student learning.  In like manner, there are other "principles" or values that are sometimes juxtaposed as though to suggest that they are mutually exclusive; yet, the "dichotomy" is false.  One such juxtaposition is an emphasis on relationship-building as against a focus on educational content.  Relationships develop, in great part, through positive, shared experiences.  Learning and relationship building are, ideally, complementary and mutually reinforcing in the educational setting.
Another false dichotomy is that between outward facing and inward looking Jewish education: either it's entirely about tikkun olam, with a universal focus, or it's all about Jewish distinctiveness.  Particularism and universalism in Jewish thought and practice are best recognized as parts of an integrated whole.  From the Biblical images of Abraham and Sarah to the present day, Jewish living is a journey of study and experience, learning and relationship, the particular and the universal.  It is a project of enduring value, engaging successive generations in ways that add meaning to the lives of individuals and wisdom to the communities of which they are part.  
Dr. Gil Graff is the Executive Director of BJE.