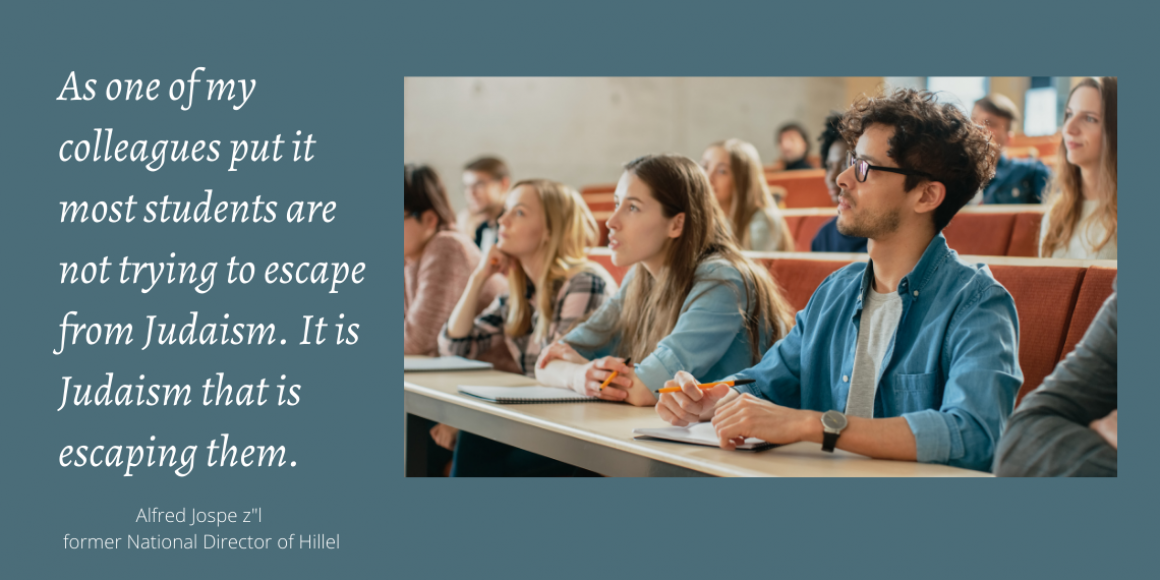 On Kohelet, Campus Life, and Preparing for College
Much has been written of late about the experiences of Jewish students as they proceed to colleges across the country.  Last month, I read the following:
There are about 300-350,000 Jewish students at our American colleges and universities today.  You will find every conceivable kind of attitude and conviction among them.  There are students who stay away from the synagogue and there are students who pray like the hasidim do.  There are Zionists, non-Zionists and anti-Zionists.  There are students who are Jewishly illiterate and others who are Jewishly highly educated.  Some students are militantly orthodox, others are just as militantly anti-religious.  Any generalization would be incorrect….
 
Our basic problem on campus and, indeed, in all of Jewish life is not outright rejection of Jewish identity or defection from it.  Both exist but are far less extensive than we are frequently led to believe.  Our overriding problem is a sense of uncertainty about the meaning and worthwhileness of the Jewish enterprise in the world – indeed , a sense of irrelevance of Judaism often based on ignorance and fortified by the absence of meaningful Jewish experiences.  As one of my colleagues once put it, most students are not trying to escape from Judaism.  It is Judaism that is escaping them.
Though I only recently encountered these reflections, they were written 50 years ago by Alfred Jospe, long-time National Director of Hillel.  
 
Jospe proceeded to comment that "a human being-born-Jew needs more than pleasant associations" if s/he is to find Judaism meaningful.  Jewish education, he urged, needs to relate to questions that have concerned the hearts and minds of people throughout the ages.  It should enable the learner to confront "questions about life and death, suffering and evil, right and wrong, love and sex, and all other problems we must face as human beings" through a Jewish lens.  
 
Many Jews read the Biblical Book of Ecclesiastes (Kohelet) on the Shabbat during Sukkot.  Kohelet famously observes that, though people sometimes imagine that they have come upon a new experience or idea, "there is nothing new under the sun."  This verse sprang to mind when I came upon Jospe's remarks.
 
At the time Alfred Jospe commented on the prevailing condition of Jewish life on campus, BJE was initiating a series of experiential Jewish education programs to meet the needs and interests of teens.  Over the decades, a variety of programs – from a summer Ulpan in Israel, to weekend retreats (including such programs as Dor Hadash, Havurat Noar, Halutz), performing arts (Yad B'Yad), service learning (BJE Impact & its Summer Teen Service Corps), and a Poland/Israel trip surrounding Holocaust Remembrance Day and Israel's Day of Independence (BJE March of the Living) -- have engaged L.A. teens in exploring themes and issues of personal and collective meaning.  Fast forward 50 years and BJE, Jewish high schools, youth-serving organizations, summer camps, synagogues, JCCs and other providers engage with Jewish teens, offering a wide range of educational experiences in multiple settings.
 
Believing, behaving, and belonging are enduring dimensions of life that speak to individual and group identity.  The importance of engaging teens in meaningful Jewish educational experiences is no less compelling today than 50 years ago.  Nothing is more "college preparatory" than relating to the perennial questions of life through a Jewish lens during the high school years.  It is a birthright we owe our teens.   
Dr. Gil Graff is the Executive Director of BJE.