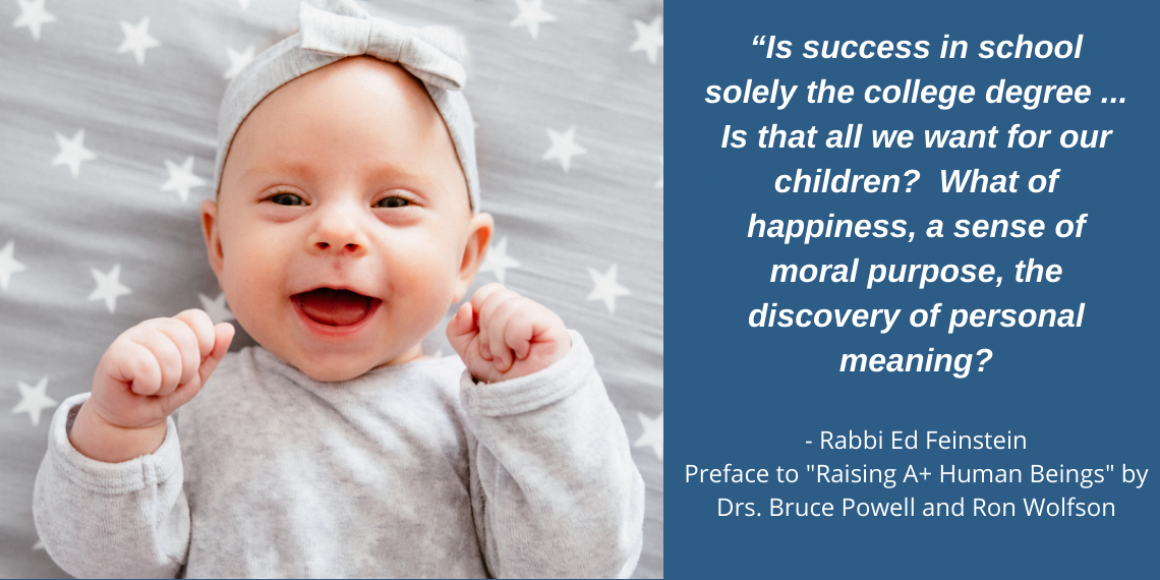 Recently, I read a book co-authored by two very distinguished Jewish educators, Dr. Bruce Powell and Dr. Ron Wolfson, titled: Raising A+ Human Beings.  In his preface to this very worthwhile and accessible work, Rabbi Ed Feinstein recounts the following:
"I remember my first Parents Night as a head of school: 'Your job is to get my kid into a good college!' a parent informed me.  'All we ask is that you give our kids the tools to be successful!' offered another."
But, asks Rabbi Feinstein, "Is success in school solely the college degree, the credential that opens to a good job that, in turn, brings material prosperity, security, and prestige?  Is that all we want for our children?  What of happiness, a sense of moral purpose, the discovery of personal meaning?  Are those among the legitimate goals of education?"  
 
In a remarkable passage in the Biblical Book of Kings, God appears to Solomon in a dream, early in the king's reign.  God asks: "What shall I give you" (I Kings 3:5)?  Solomon asks for "a hearing heart to judge your people, to discern between good and evil…" (I Kings 3:9).  God's response is to endow Solomon with an understanding heart as well as riches and honor.  
 
Wise judgment, understanding, and good character, and academic and material success are, by no means, mutually exclusive.  The sub-title of the book by Drs. Powell and Wolfson is: "Crafting a Jewish School Culture of Academic Excellence and AP Kindness."  This combination stands at the heart of Jewish education.  
 
The ultimate value proposition of Jewish education is that, beyond academic excellence, it imparts wisdom and understanding, nurturing a sensitivity to the divine image inherent in each human being.  In Rabbi Feinstein's words, it offers "a developing young soul a sense of personal significance in a life lived with moral purpose."  Parents and grandparents as well as school-based educators will find age-old wisdom in the very contemporary (just released) book by local educators Bruce Powell and Ron Wolfson.  It is an A+ read!  
Dr. Gil Graff is the Executive Director of BJE.